Latent TB Infection (LTBI) Testing in Malaysia
Tuberculosis in Malaysia
Facts and Figures
Intermediate TB burden country.1
Cause of death among communicable, maternal, neonatal & nutritional diseases.2
New TB cases every year.3
From Tuberculosis every day.3
Total percentage of Malaysia's TB cases found in Sabah;
While Malaysia has successfully reduced TB-related mortality5 6, TB incidence is not decreasing in line with global End TB Strategy milestones7.
Pulmonary TB patients are co-infected:
Latent TB infection (LTBI)
Latent TB infection (LTBI) prevalence in Malaysia's prisons.9
0
138 / 100,000 population
Relatively high incarceration rate.8
Latent TB Infection (LTBI) Testing
WHO has identified the need to detect, diagnose and treat latent TB infection (LTBI) as a key strategy to end TB. Testing is the first step to treat those who have LTBI to break the cycle of transmission and infection of TB.
But, when 25% of the world's population have a prior infection of the Mycobacterium TB bacteria and remain asymptomatic10, and when 1 in 10 with LTBI progresses to active TB, ending TB needs to begin with an understanding of prioritising whom to screen11.
Who should get tested for LTBI?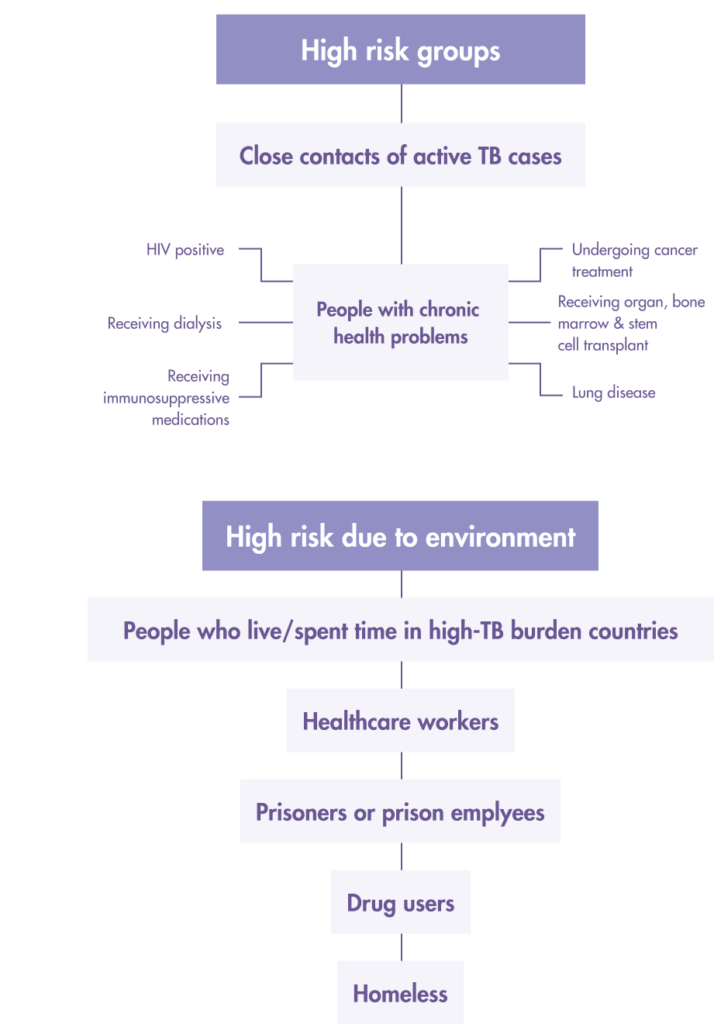 Both the Tuberculin Skin Test (TST) and Interferon-gamma release assays (IGRA) tests, which include the T-SPOT®.TB test are used to aid the detection of latent TB infection in Malaysia.
While the TST seems simple enough to perform and does not require phlebotomy, the clinical and operational limitations of the TST are well documented. Detection of LTBI using the TST is also a challenge to administer and interpret.
TST test and cross-reactivity with the BCG vaccine
In Malaysia, the National BCG Vaccination Program, initiated in 1961, provided routine BCG vaccination to new-borns at birth. The vaccine is particularly useful in providing protection against disseminated tuberculosis such as tuberculous meningitis and military TB to children.
TST uses mixture proteins, sometimes referred to as purified protein TST uses mixture proteins, sometimes referred to as purified protein derivative (PPD), and these protein cross react with BCG and non-tuberculous Mycobacteria (NTM), leading to low specificity in patients with BCG vaccine. Low specificity means higher false positive results especially in children, which leads to overtreatment12.
Limitations with TST that are seen in BCG vaccinated populations absent when using IGRAs.
IGRAs are an in vitro diagnostic blood test, which detect interferon-gamma released by T cells after exposure to certain TB-specific antigens, as an indirect measure of adaptive cell immunity. The T-SPOT.TB test, which is a type of commercially-available IGRA test, uses TB-specific antigens ESAT-6 and CFP10. These antigens used are important because they are specific for MTB, and not present in the BCG vaccine or non-TB mycobacterium (NTM), limiting false reactions.
TB Guidelines: Malaysia
Ministry of Health, Clinical Practice Guidelines: Management of Tuberculosis (3rd edition), 201213
High-risk groups for latent TB infection (LTBI) screening
HIV-infected persons​
Organ transplant recipients​
Persons who are receiving immunosuppressant drugs​
Recent close contacts (<2 years)​
Recent immigrants (<2 years) from high prevalence countries​
Intravenous drug users
Residents and employees of high risk congregate settings​

Hospitals and other healthcare facilities​

Persons with fibrotic changes on CXR with old TB​

Patients with calcified lesions should be excluded
Latent TB infection (LTBI) diagnosis includes
No symptoms of active TB

Normal chest X-ray

Smear/culture negative

Positive TST
IGRA tests may be used as an alternative test for TST in all situations for adults.
Patients not expected to return for TST reading (48 – 72 hours later)
Patients who had recent BCG vaccination or past NTM infection
Where a 2-step test method should be considered (Use of TST followed by IGRA):
Close-contacts whose TST is in the range of 5 – 9 mm
Patients who are offered LTBI treatment but are not convinced that they have LTBI
Individuals who require annual screening of LTBI (E.g. healthcare providers working in high risk areas)
References
World Health Organization. In: Global tuberculosis report 2017. Geneva: WHO. Available at: https://apps.who.int/iris/bitstream/handle/10665/329368/9789241565714-eng.pdf?ua=1.
StopTB Partnership & WHO. StopTB Partnership Dashboard: Tuberculosis Situation in 2019, Malaysia. Available from: http://www.stoptb.org/resources/cd/MYS_Dashboard.html
Malaysiakini.com. (16 December 2019). TB deaths high due to late treatment. Malaysiakini.com. Available from: https://www.malaysiakini.com/news/503769
Goroh, M.M.D., Rajahram, G.S., Avoi, R. et al. Epidemiology of tuberculosis in Sabah, Malaysia, 2012–2018. Infect Dis Poverty 9, 119 (2020). https://doi.org/10.1186/s40249-020-00739-7
World Health Organization . Global Tuberculosis Report 2019. Geneva: World Health Organization; 2019.
Iyawoo K. Tuberculosis in Malaysia: problems and prospect of treatment and control. Tuberculosis. 2004;84(1–2):4–7. doi: 10.1016/j.tube.2003.08.014.
World Health Organization . The end TB strategy: global strategy and targets for tuberculosis prevention, care and control after 2015. Geneva: World Health Organization; 2018
Jetan CA, Jamaiah I, Rohela M, et al. Tuberculosis: an eight year (2000-2007) retrospective study at the University of Malaya Medical Centre (UMMC), Kuala Lumpur, Malaysia. Southeast Asian J Trop Med PublicHeal. 2010; 41(2): 378–385.
Al-Darraji, H.A.A., Kamarulzaman, A. & Altice, F.L. Latent tuberculosis infection in a Malaysian prison: implications for a comprehensive integrated control program in prisons. BMC Public Health 14, 22 (2014). https://doi.org/10.1186/1471-2458-14-22
Cohen A, Mathiasen VD, Schön T, Wejse C. The global prevalence of latent tuberculosis: a systematic review and meta-analysis. Eur Respir J. 2019 Sep 12;54(3):1900655. doi: 10.1183/13993003.00655-2019. PMID: 31221810.
Centers for Disease Control and Prevention (2018). Deciding when to treat latent TB Infection. Available from: https://www.cdc.gov/tb/topic/treatment/decideltbi.htm
Spicer KB, Turner J, Wang SH, Koranyi K, Powell DA. Tuberculin skin testing and T-SPOT.TB in internationally adopted children. Pediatric Infectious Diseases J. 2015 Jun;34(6):599-603. doi: 10.1097/INF.0000000000000680. PMID: 25973937.
Ministry of Health Malaysia. Clinical Practice Guidelines: Management of Tuberculosis (3rd edition). MOH/P/PAK/258.12(GU). Putrajaya: Ministry of Health Malaysia; 2012.
1 small tube. 1 million ways to find the truth¹
Developed by leading diagnostic company Oxford Immunotec, the T-SPOT .TB test is a single visit blood test for tuberculosis designed to reduce assay variability and maximize sensitivity, even in the immunocompromised.²
IGRA technology is based on the release of interferon-gamma secreted by individual effector T cells (both CD4+ and CD8+) after being stimulated by TB-specific antigens. The T-SPOT.TB test uses the enzyme-linked immunospot (ELISPOT) methodology to enumerate M. tuberculosis-sensitized T cells by capturing interferon-gamma in the vicinity of T cells from which it was secreted.
When your test looks for signs of TB infection using T cells, it matters how many T cells you include. The T-SPOT.TB test, unlike other tests, uses the same number each time. And it's a big number: 250,000 cells per well, four wells per test¹. That's a million witnesses to infection – and a moment of truth for TB.
How does the T-SPOT.TB test compare to other latent TB tests?
The T-SPOT.TB test advantages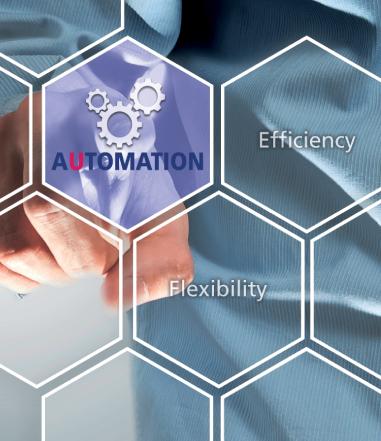 Accurate across patient populations1

Onl FDA-approved IGRA for children > 2 years2

Consistent results3

Sensitivity: 98.8%
Specificity: 99.1%

High test accuracy around result cut-off due to regulatory approved borderline zone – helping to prevent inappropriate therapy3, 4
Automation for the T-SPOT.TB test

3, 5
It is now possible to automate the T-SPOT.TB test using the CE-marked T-Cell Select™ reagent kit, giving more streamlined workflows, simplified sample logistics and freeing up technician's time.
For everyone over the age of two
T-SPOT.TB: Only IGRA cleared by the US FDA for ages two and up1
When it comes to children, you know that not all diagnostic tests have the same accuracy in pediatric populations as they do in adults. Fortunately, the T-SPOT.TB test is reliable for not only the healthy children you test, but also for the children that have medical issues such as diabetes or are immunocompromised.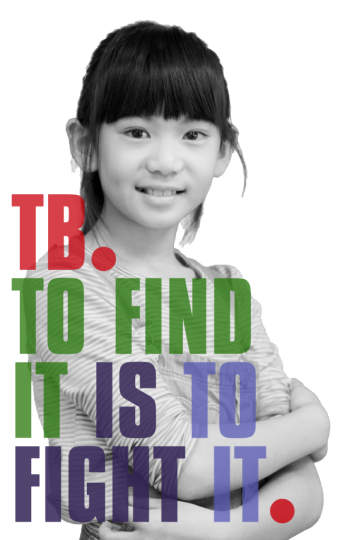 Contact Us
To find out more about T-SPOT.TB contact us:
Malaysia
Biomed Global Tower
No. 13 Jalan Cempaka SD12/5
Bandar Sri Damansara
52200 Kuala Lumpur.
Email: info.my@biomed-global.com
Phone: +603 6287 0066

Singapore
Oxford Immunotec Limited (Singapore Branch)
160 Robinson Road #23-03
SBF Center, Singapore 068914
Email: enquiry-RoA@oxfordimmunotec.com
Phone: +65 6246 6861
References
Oxford Immunotec. T-SPOT.TB Package Insert PI-TB-IVD-UK-V3. Abingdon, UK. September 2020.
Oxford Immunotec. T-SPOT.TB Package Insert TB-PI-US-0001 V9. Abingdon, UK. February 2021.
Oxford Immunotec. T-SPOT.TB Package Insert PI-TB-IVD-UK-v3. Abingdon, UK. 2016.
Mazurek GH, Jereb J, Vernon A, LoBue P, Goldberg S, Castro K, IGRA Expert Committee, Centers for Disease Control and Prevention (CDC). Updated guidelines for using Interferon Gamma Release Assays to detect Mycobacterium tuberculosis infection – United States, 2010. MMWR Recomm Rep. 2010; 59(RR-5:1-25.
Lewinsohn DM, Leonard MK, LoBue PA, et al. Official American ThoracicSociety/Infectious Diseases Society of America/Centers for Disease Control and Prevention Clinical Practice Guidelines: Diagnosis of Tuberculosis in Adults and Children. Clin Infect Dis. Published online December 8, 2016:ciw694. doi:10.1093/cid/ciw694